Classes & Schedule
While most of our classes are on-line through Zoom, we also offer In-person classes at two downtown locations: 20 Douglas St. (Barres + Bells) and 42 Quebec St. (Guelph Youth Dance). Scroll down to see more about our In-Person classes!
To read more about each of our classes, or to book a class, please click on the schedule below.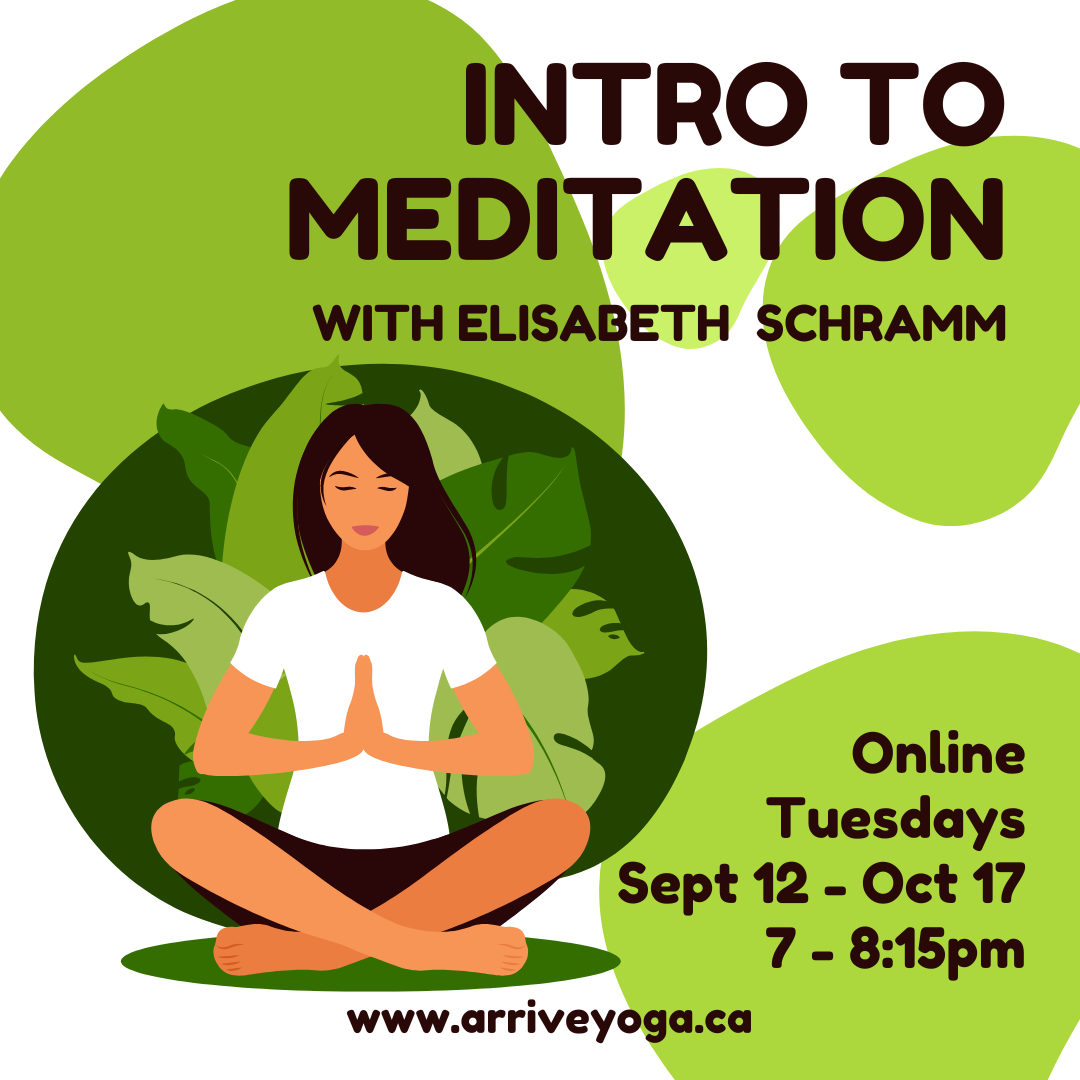 New to Arrive Yoga & Mindfulness?
Welcome! We are a friendly and inclusive community of teachers and students and we look forward to meeting you!
If you would like some help finding classes that are most suitable for you, please contact us. We are happy to let you know all about our schedule, passes and memberships, as well answer any technical questions about attending classes on Zoom.
Special Offer for New Members
As a new member, you have the option to use this one time offer. Enjoy your first week of unlimited classes for FREE, and then 1 month of unlimited classes for $65 (half the regular cost!).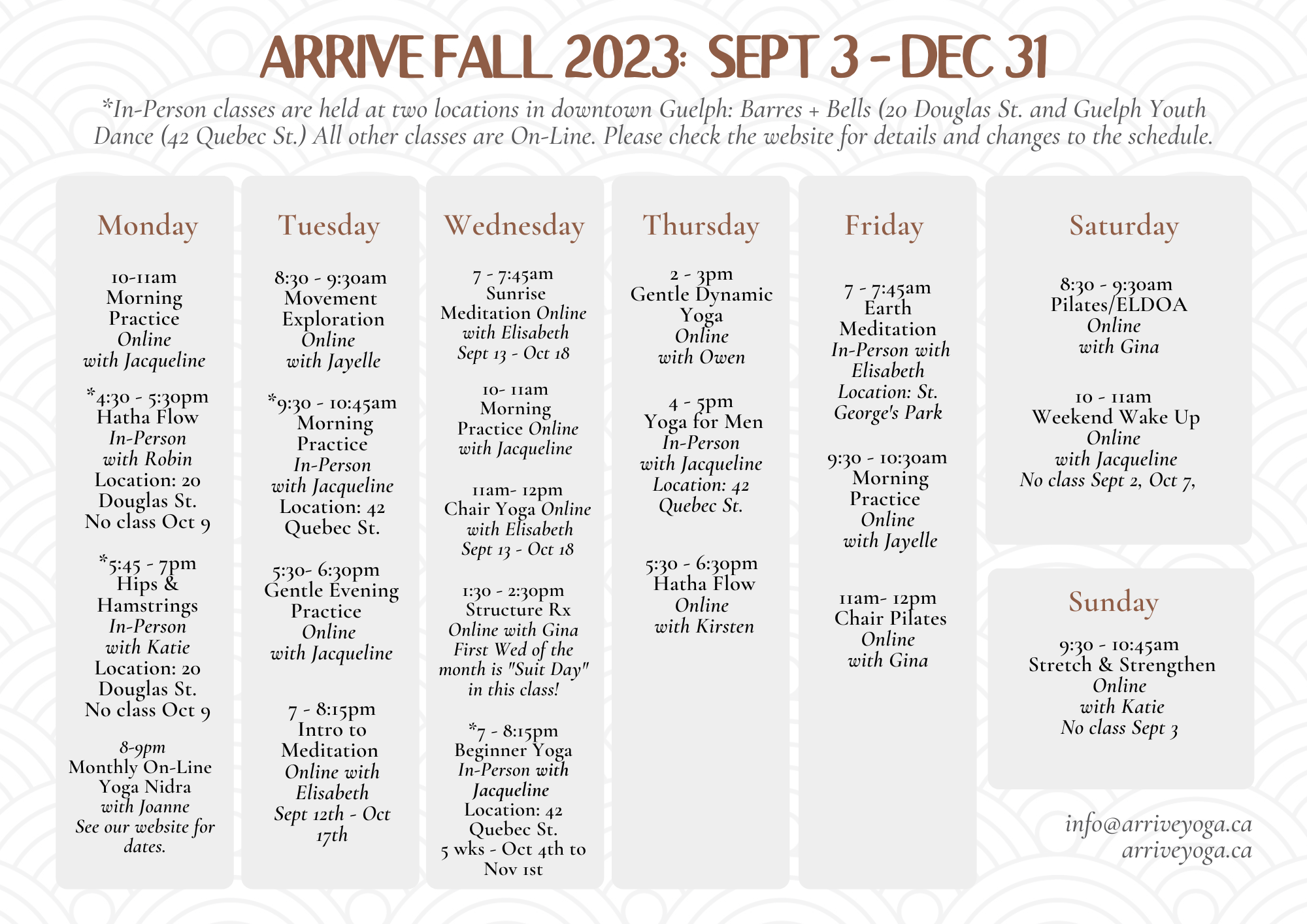 In-Person Classes
These classes are located in two downtown locations.
Monday classes: Take place at Barre + Bells, located at 20 Douglas St., down the street from Red Brick and above Joseph M. Pellizzari law offices. 
Tuesday, Wednesday, & Thursday classes: Take place at Guelph Youth Dance, located on the second and third floors of 42 Quebec St., across the street from the Bookshelf. PLEASE NOTE! THE BUILDING MANAGER AT GYD HAS ASKED THAT THE DOOR AT STREET LEVEL IS LOCKED AT ALL TIMES. SOMEONE WILL BE THERE TO GREET YOU BEFORE CLASS TO LET YOU IN. IF YOU ARRIVE AFTER THE START TIME OF YOUR CLASS, THE DOOR WILL BE LOCKED AND YOU WILL MISS YOUR CLASS. WE APOLOGIZE FOR THIS INCONVENIENCE! IF THIS HAPPENS, WE WILL PUT YOUR CLASS BACK ON YOUR PASS. THANK YOU FOR YOUR UNDERSTANDING.
Pre-registration is suggested to ensure that you secure a spot. Missed classes can be made up in any other class (in-person or on-line). Drop-ins are welcome, space permitting.
ADDITIONAL INFO: You will need to bring your own mat, yoga tie, and a blanket (to use as a prop to sit on or as extra cushion for your knees).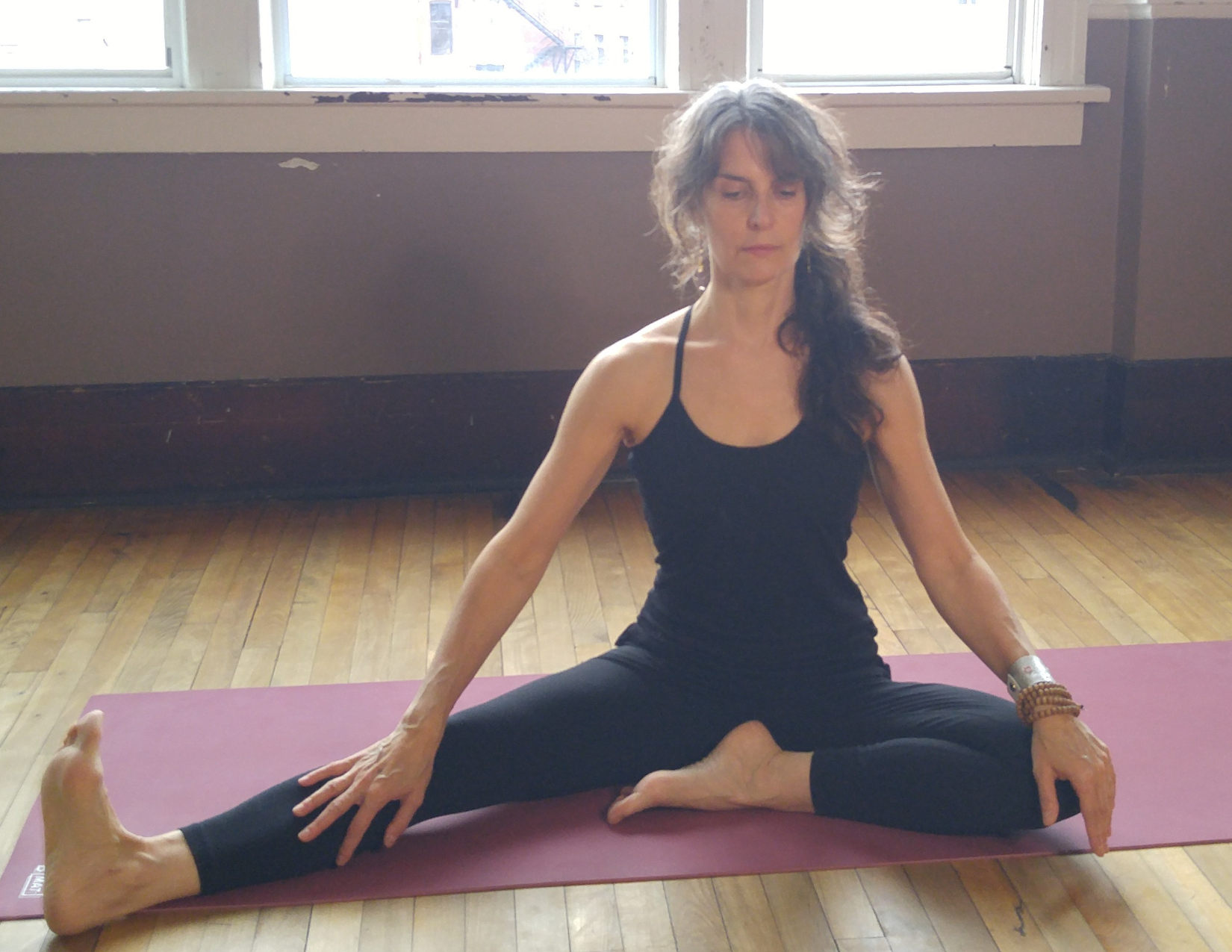 Morning Practice
with Jacqueline Gilbey
Tuesdays 9:30am – 10:45am
Location: 42 Quebec St. (Guelph Youth Dance)
Start your day with a Morning Practice to get grounded and open your heart. Find strength and stability to face your day with confidence. Awaken the mind to bring lightness and compassion to yourself and to those we meet as move through the day.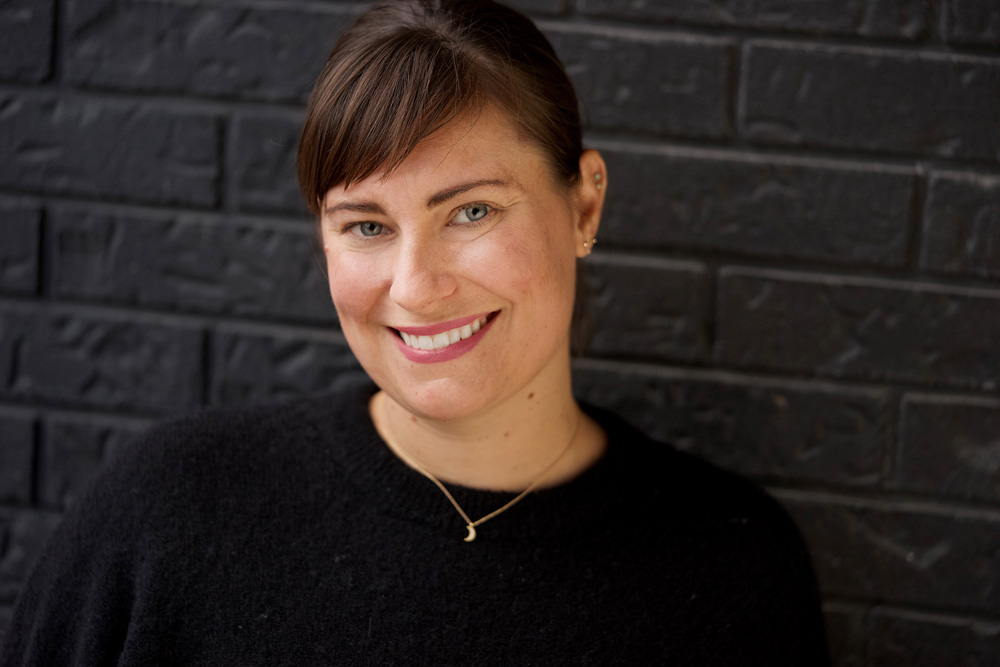 Hips & Hamstrings
With Katie Junkin
Mondays 5:45pm – 7:00pm
Location: 20 Douglas St. (Barres + Bells)
Hips & Hamstrings will explore movement in the physical areas of the pelvis and hamstrings and the energetic root and sacral chakra areas, encouraging a deepening of the musculature and fascial systems and increasing range of motion. This practice will help to ease tension from daily life sitting at a desk or sporting endeavours that often leave these areas tight and with restricted range of motion. The class will combine yang (flow/strength based movements) and yin (slow, long holds) to access and integrate the muscular, fascial and energetic systems within the body, with a focus on the hips and hamstrings!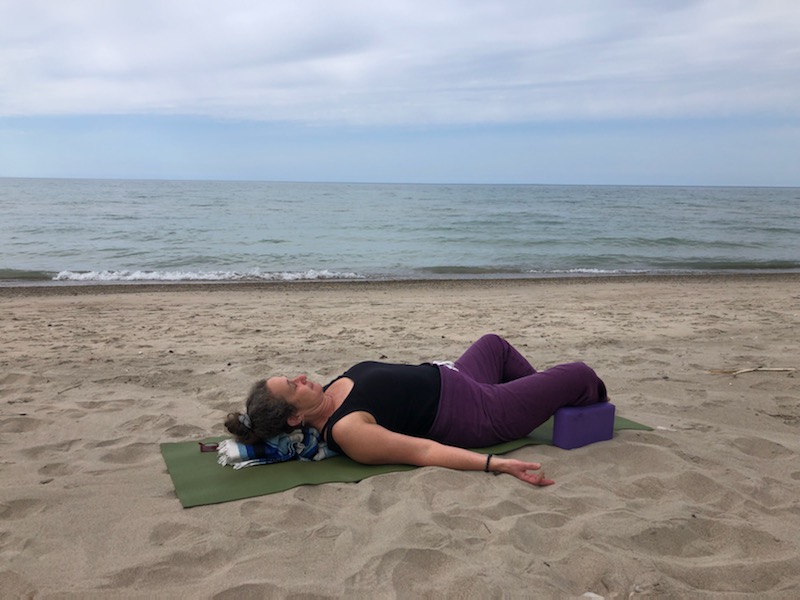 Monthly Restorative with Lisa Silverstein
ONLINE
Mondays, next class Oct 16th
8pm – 9pm  
$19 (includes tax), Passes and Memberships welcome
Rest and relaxation have a deep rejuvenating power and are needed now more than ever. By using props to support the body, the poses can be held for longer periods, allowing the awareness and breath to move deeply inside. As the body progressively relaxes, there is an opportunity for layers of stress and tension to melt away and healing and renewal to take place. For our online classes please have on hand a bolster (or 2 large cushions), 2 blankets, a yoga strap or scarf, a small hand towel, and option for an eye pillow, mask, or eye covering. Suitable for all levels of practitioners.
Address
160 Grove St.
Guelph ON N1E 2W7