Workshops & Special Events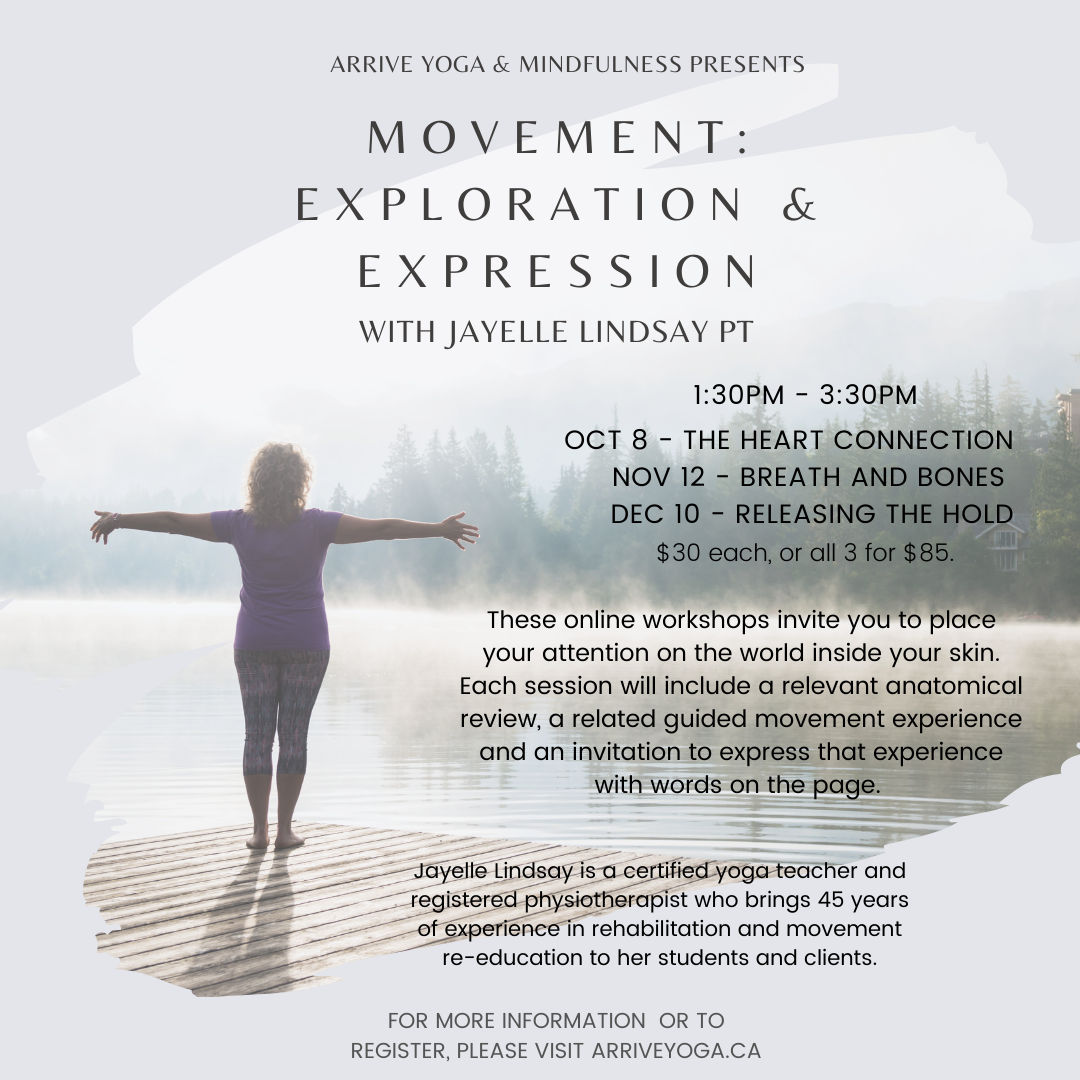 Movement : Exploration and Expression with Jayelle Lindsay PT
$30+hst each, or $85+hst for all 3 workshops
Everyone is welcome to join this guided exploration of slow movement and self-expression.   It is entirely human to go through our day- breathing, digesting, growing new cells relying on habitual patterns that require little consciousness.  These two hour workshops invite you to place your attention on the world inside your skin. Each session will include a relevant anatomical review, a related guided movement experience and an invitation to express that experience with words on the page.  No previous experience or special body required .

Second Friday of each month, 1:30pm – 3:30pm

Dec 10 – Releasing the Hold
: Acknowledging the network of connective tissue (fascia) that guides and informs our structure and inviting it to change. 
REGISTER HERE for Releasing the Hold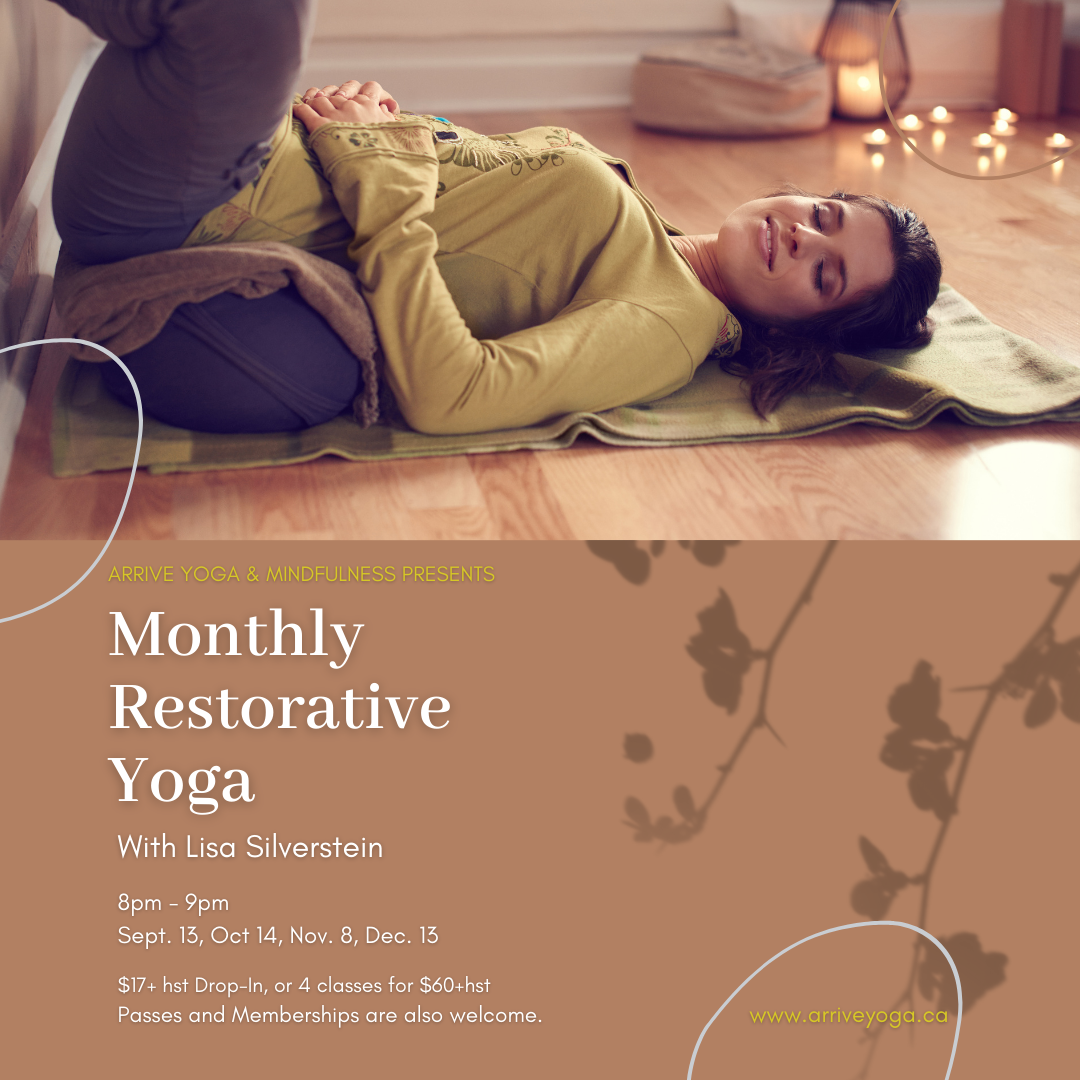 Monthly Restorative with Lisa Silverstein
Thurs. Oct 14, We regret the 14th is cancelled. Mon. Nov 8, and Mon. Dec 13
$17+hst each
Rest and relaxation have a deep rejuvenating power and are needed now more than ever. By using props to support the body, the poses can be held for longer periods, allowing the awareness and breath to move deeply inside. As the body progressively relaxes, there is an opportunity for layers of stress and tension to melt away and healing and renewal to take place. For our online classes please have on hand a bolster (or 2 large cushions), 2 blankets, a yoga strap or scarf, a small hand towel, and option for an eye pillow, mask, or eye covering. Suitable for all levels of practitioners.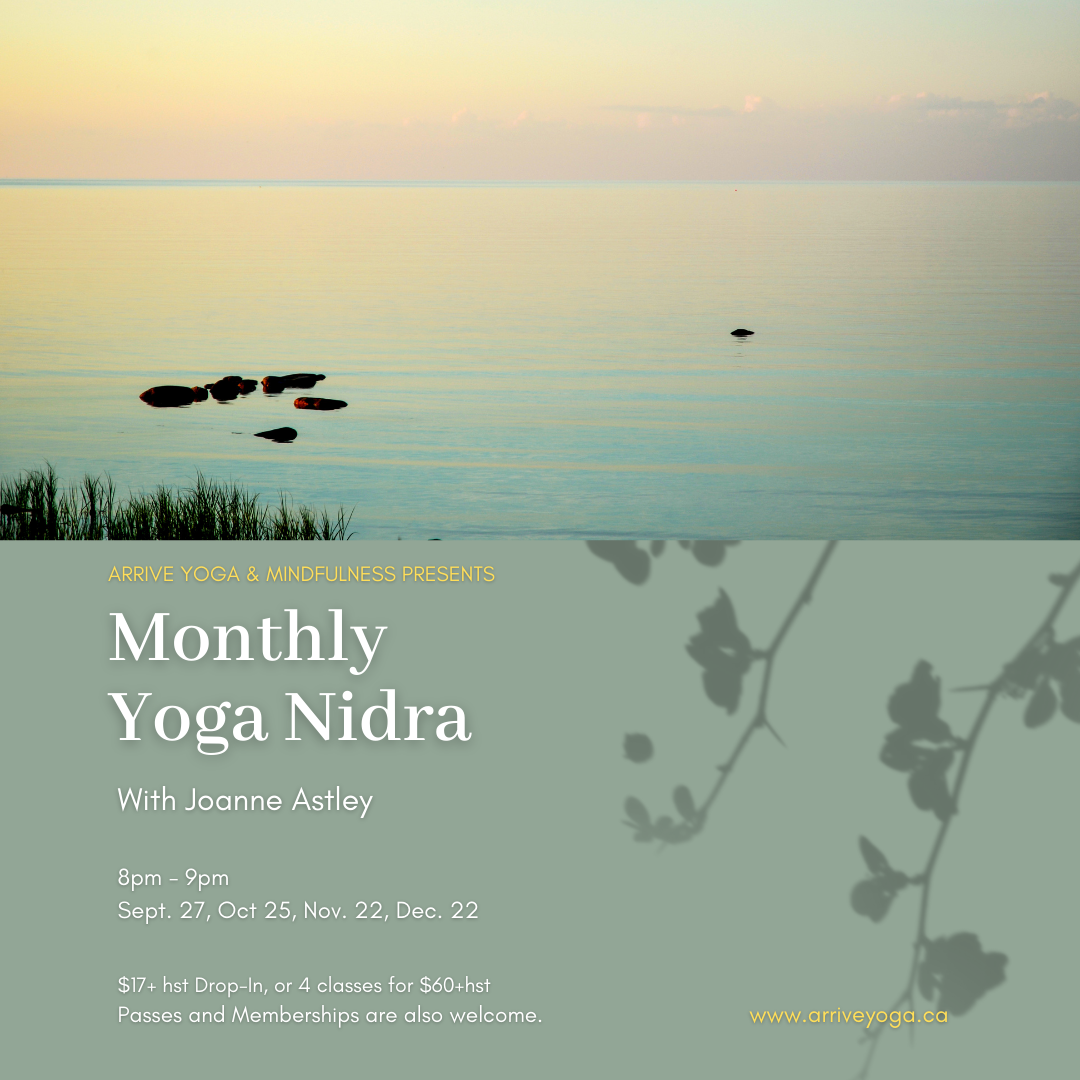 Monthly Yoga Nidra with Joanne Astley
Mon. Oct 25, Mon. Nov 22, and Wed. Dec 22
Note: The Mon. Sept. 27th is cancelled. Please register early for the next Yoga Nidra on Mon. Oct 25. 
This 60-minute class will begin with a short gentle movement practice to release tension from the body before moving into a guided iRest Yoga Nidra practice. This is a form of guided meditation in the yogic tradition, which was developed by Richard Miller, clinical psychologist. Students usually lie down on their mat fully supported by props of their choice to be guided into a deep, restorative and restful state.
In clinical trials, iRest Yoga Nidra was found to be helpful for chronic pain, sleep problems, depression and anxiety, and post-traumatic stress disorder (PTSD). For more information, go to:
https://www.irest.org/yoga-nidra-and-irest
https://www.irest.org/about-irest
https://www.irest.org/irest-research