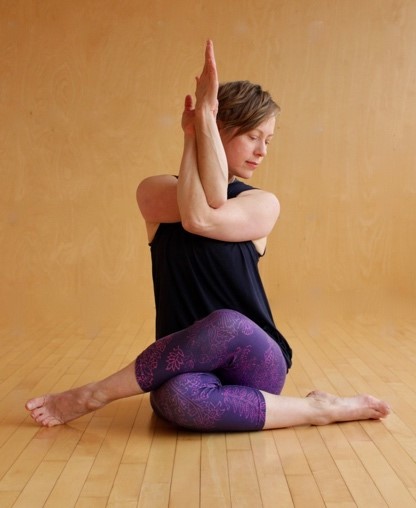 Kirsten Blokland
Kirsten's view of yoga is not a workout, but a "work-in" – rooted in self-inquiry, contemplation, and self-compassion, with the individual's inner wisdom serving as the guide.  Kirsten's personal yoga practice and teaching represent an eclectic blend of yoga traditions she has studied in depth over the years (Ashtanga, Vinyasa Flow, Iyengar, and Restorative yoga disciplines), coupled with features from the functional movement discipline.  This multidisciplinary approach provides a rich vocabulary in movement and mindfulness, nourishing the body, mind, and spirit.  Sharing the gifts of yoga with her students and supporting them on their journey is a privilege that Kirsten treasures.
Since 2008, Kirsten has been practicing yoga almost daily.  In 2017, she began the process of becoming a yoga teacher, completing her training at Octopus Garden Holistic Yoga Centre in Toronto.  Kirsten's teacher trainings and certifications include a comprehensive 500-hour program, a 50-hour Restorative yoga program, as well as ongoing workshops, courses, and self-study.
Kirsten is grateful to each and every one of her yoga teachers for their inspiration and guidance, particularly Pat Harada Linfoot, John Veiga, YuMee Chung, Nicky Poole, Tracey Currie, Scott Petrie, Ernie Patai, J-P Tamblyn-Sabo, and many other superb teachers.
For more information about Kirsten's background and teaching, please visit her website: https://kirstenbloklandyoga.wixsite.com/website.
Kirsten's Classes at Arrive
Chair Yoga   Wednesday at 11:00am 
Hatha Flow All Levels  Thursday at 5:30pm
To hear Kirsten describe her classes at Arrive, please see this video.
Private classes with Kirsten Blokland
Each private session with Kirsten includes a theme from yoga philosophy, woven into the session from start to finish, explored from physical and psychological perspectives.  Homework will be assigned at the end of each session to facilitate maximum benefit, as well as to encourage the development of a home practice that will eventually be self-sustaining.  Prior to the initial private session, Kirsten offers a free-of-charge conversation inspired by the question, "What do you need from your yoga practice right now?"  After discussing your needs, goals, and coming up with a general plan, Kirsten will give you some time to decide if she is the right teacher for you.
Kirsten welcomes the opportunity to work with students of all ages and levels of experience.  Her special interests include Yoga for Individuals with Chronic Inflammatory Conditions (e.g., Lupus, Rheumatoid Arthritis), Contemplative Movement for Meditation (designed to cultivate meditative quiescence), Restorative Yoga, Chair Yoga, and Vinyasa Flow.
To book a pre-session conversation with Kirsten, please contact the studio, at 519-993-1813.  Or send an email to info@arriveyoga.ca.
Fees are below (plus HST).
| | | |
| --- | --- | --- |
| Number of Students | In-Person Per Hour* | Online Per Hour* |
| 1 | $85 | $75 |
| 2 | $90 | $80 |
| 3 or more | $95 | $85 |
*After 10 sessions, 11th session is FREE