With Lisa Silverstein
Sunday November 10, 1pm – 4pm
The Throat Chakra – Vishuddha takes us into the
area of the neck and throat in the body and the
element of sound and ether. The throat chakra is
associated with communication, creativity, and
truth. Vishuddha is a Sanskrit word meaning
purification or cleansing, and this chakra
represents cleansing not only in a physical level
but also in the psyche and mind. Its purpose is
to express truth coming from the soul. As we
clear the passageway from our head to the body
we begin to synchronize the communication
between our inner and outer worlds as well as
communication with a bigger source. Come
enjoy your unique voice and find some resonance
with others.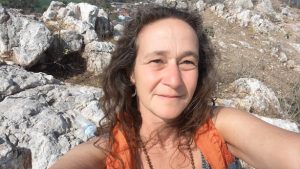 Lisa Silverstein is a one of Living Yoga & Health's original teachers. She ran and co-directed the studio with Jayelle Lindsay for over 15 years and has helped to make it the warm and vibrant place it is. Lisa brings decades of experience to her teaching. With a background in Early Childhood Education she helps students access their youthfulness and innate sense of movement and breath. Lisa is certified through the Kripalu Centre, Esther Myers Studio and a recent graduate of Chakra teacher training through Sacred Centers in California. A recent sabbatical took her to India where she immersed herself in the traditional teachings of yoga. With depth of wisdom and a lighthearted approach, Lisa's classes are insightful, playful, and accessible to all ages and abilities.
Click here for a printable version: Throat Chakra