With Lisa Silverstein
Sunday January 19, 1pm-4pm
We begin the journey upward through the chakras by getting into the body exploring the first
chakra, Muladhara, which means, root support. It is by being fully embodied that we create
a strong foundation for the whole energy system. Chakra one represents the earth element
and so it's goals have to do with how we interact with the physical realm. Taking care of the
body and it's needs, our home and larger environment, our livelihood, and what other things we need in life to feel safe and secure.
"Be strong then and enter into your own body: there you have a solid place for your feet.
Think about it carefully! Don't go off somewhere else! Kabir says this: just throw away all
thoughts of imaginary things and stand firm in that which you are." – Kabir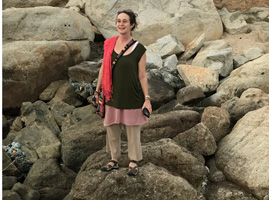 Lisa Silverstein is a one of LYH's original teachers. She ran and co-directed the studio with Jayelle Lindsay for over 15 years and has helped to make it the warm and vibrant place it is. Lisa brings decades of experience to her teaching. With a background in Early Childhood Education she helps students access their youthfulness and innate sense of movement and breath. Lisa is certified through the Kripalu Centre, Esther Myers Studio and a recent graduate of Chakra teacher training through Sacred Centers in California. A recent sabbatical took her to India where she immersed herself in the traditional teachings of yoga. With depth of wisdom and a lighthearted approach, Lisa's classes are insightful, playful, and accessible to all ages and abilities.