With Ken Hood
6 Weeks, Sundays January 5 to February 9, 7pm-8:15pm
$84 + hst
To register, call (519-767-1041) or email the studio (info@baileycreative.ca), or follow these instructions to register on-line:
1. Go to Schedule page
2. Scroll down to FIND A CLASS
3. Click on FULL CALENDAR
4. Go to January 5th and click OK.
5. All January 5th classes will be listed chronologically.
6. Scroll down to find TAKING IN THE GOOD and click on BOOK.
Taking in the Good
We will be covering six essential meditation practices that will help you to:
– cultivate an openness to the kind, the beautiful and the delicious.
– create moments of the same.
– be able to savour and be mindful of these experiences as they arise.
– and then finally store them as positive neural structure and happy memories, for later!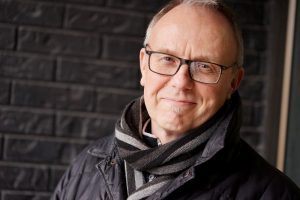 Ken Hood is known by many in the Guelph community as the friendly Buddhist bookseller at the Bookshelf. Ken has been facilitating meditation groups in Guelph since the late 1980s, more prominently at Arrive Yoga on Sunday mornings at 10:30 am and Wednesdays at 7:30 pm. Both are drop-in and by donation. His meditation practice is rooted in the Mahayana Tibetan Buddhist tradition, however Ken's teaching is ecumenical with strong influences from Western Theravada Buddhism, neuroscience, Jungian psychology, and Roman Stoicism. Ken's classes are warm and insightful; offering anecdotes and teachings that reflect how meditation can transform our minds and hearts so that we can live with more compassion and less suffering. He is also offering a new format called Meditative Counseling for a one-on-one work. It involves meditating together coupled with conversation and inquiry.Together with his wife, Jacqueline Gilbey, he is co-director of Arrive Yoga & Mindfulness. For more information, please see Ken's website www.agoodheart.ca.