With Lisa Silverstein and Kristin Honey
Sunday Sept 30th, 10am-4:30pm
Recharge with a full day of movement, meditation, food and presence in this beautiful studio set on the banks of the Grand River. An invigorating morning practice will awaken your senses through meditation, reflection and movement followed by a sweet wholesome nourishing lunch made with love. The afternoon will offer a more introspective, restorative practice with time for reflection and perspective to round out this day of re-treat. There will be time to breathe in and touch down in the beautiful woods surrounding the studio and the river nearby to remember and reconnect.
We welcome people with all levels of experience.
Space limited to 12 so reserve your space soon!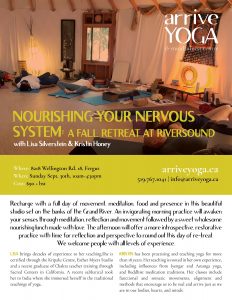 $90 + hst