"This being is a guest house
Everyday a new arrival…"
-Rumi
With Jayelle Lindsay PT
4 Weeks: Mondays June 8th – June 29th
2:30pm – 4:30pm (note new time!)
$90 + hst, or $25 + hst per class space permitting. (These are suggested fees for donation. Any amount that works for your current financial situation is welcome.)
This four week series will provide an opportunity for writers of all forms – novelists, poets, song writers, etc and any level of experience to focus on the joys of the poetic form (including prose poetry.) Limited to 8 participants. 
Once you have registered, preliminary guidelines and the link to the class will be sent to you. This class is limited to 8 participants. Register early!
Amherst Writers & Artists' philosophy is a simple one: every person is a writer, and every writer deserves a safe environment in which to experiment.  For more information about the AWA method go to amherstwriters.org.
This series will be offered live online through Zoom! You will need a computer with a camera and microphone. In order to maintain a safe space for everyone, we ask that only the participants in the workshop have access to what is shared visually or verbally. 
JAYELLE LINDSAY PT:Jayelle is a poet, yoga teacher, physiotherapist and certified writing workshop facilitator who has been teaching and exploring movement for more than 40 years.  "The AWA method of writing with others has supported and transformed my ability to listen deeply, challenge my inner critic and expand my ownwriting skills." JL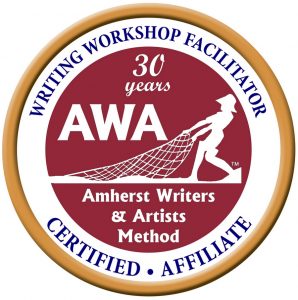 .