With Kristin Honey
Saturdays Oct 31, Nov 14, and Nov 28
1pm-4pm
Sign up for full series: $160 + hst
Sign up for Oct 31st only:  $60 + hst (space permitting) 
Have you ever experienced, or been curious about the following: low back/hip pain that isn't improving, pelvic pain, postpartum or other urinary incontinence, leaking with sneezing or coughing, prolapse or other pelvic conditions, pain with sexual activity, a disconnection with your pelvic area.
In this dynamic workshop series, we will build the foundation for the healthy balance of your pelvic floor through lecture, discussion, self reflection and embodied movement to awaken our awareness and understanding of the gifts and challenges of the pelvis. Become familiar with the function of your pelvic floor, how to access, train, and balance these muscles and to apply the skills and insight developed to your daily life.
In keeping with the Covid-19 safety measures we are offering this workshop online. An email with further information and a link to the workshop will be sent you once you have registered.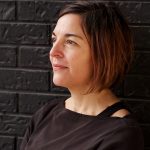 Kristin Honey has been practising and teaching yoga for more than 18 years. She is a student, teacher, mentor and community builder. Her teaching is rooted in her own experience, including influences from Iyengar and Astanga yoga, and Buddhist meditation traditions. Her playful curiosity about the foundations of body awareness, breath and presence keep her continually exploring methods that bring her and her students closer to their own truth. Kristin's classes are intelligent, warm and full of heart, encouraging students to gain insight from their own felt experience. Her teaching includes functional and somatic movements, alignment and methods that encourage us to be real and arrive just as we are in our bodies, hearts, and minds. Over many years, Kristin's love of community has helped to create space in downtown Guelph for sharing practice, healing, and self exploration. For more information about classes, workshops, pelvic health and collaborations, visit http://www.kristinhoneyyoga.com
This series needs a minimum of 8 students registered for the entire series. To avoid disappointment, please register early so that we can plan accordingly.