With Lesley Greco
Sorry! This workshop has been cancelled! 
Saturday March 7th, 1pm-4pm
The auditory and vestibular mechanisms of the ear share anatomical origins and sensory information yet have distinct perceptual functions. The auditory system facilitates the metabolism of sound while the vestibular system, coined 'the ear of the body' by Alfred Tomatis, receives information from multiple sources throughout the body listening for our position in space, our movements, our uprightness as well as the motions and movements of those we are in contact with.
On a neurobiological and biobehavioural level, research suggests that our bodies listen to each other, mirror each other's states, influence one another's nervous systems, creating a body to body dialogue that occurs mostly below conscious awareness.
In this workshop we will look at the physicality of listening in, with and through our bodies investigating the absolute precision and poetry with which our body communicates. We will experiment with listening strategies for the purpose of developing the skills of physical dialogue within ourselves and with each other.
Explore listening concepts and strategies to:
-develop physical and auditory listening as a personal, artistic and/or professional practice
-strengthen your foundation of anatomy and physiology (learn the language of the body)
-source creative material from the richest resource that we have
-locate yourself physically in overwhelming or chaotic circumstances (how to not get blown around)
-orient to the Health of your own body as a method of working effectively with the bodies of others
-self-reference, self-regulate and learn trust in your own body
Anyone who has a body will benefit from the work but may be of particular interest to:
performing artists, movement educators and practitioners, writers, teachers, visual artists and practitioners of the healing arts.
"To maintain the integrity and depth of training for performers in Canada we need people of the caliber and commitment of Lesley." Pam Johnson, theatre performance professor, dancer, choreographer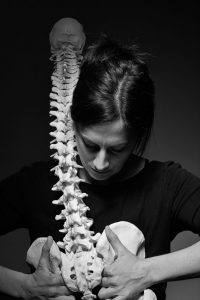 Lesley Greco RMT, CST, Osteopathy (research writer)
works in the fields of rehabilitation, movement education and performance as a practitioner, artist and teacher. She practices alongside a team of gifted physicians, naturopathic doctors, osteopaths, physiatrists, massage therapists and within an exceptional community of artists, educators and performers. She has been in practice since 1996, most recently completing five years of classroom and clinical education at the Canadian College of Osteopathy. Lesley was introduced to the discipline of listening as an art practice by pioneering composer and founder of the Deep Listening Institute, Pauline Oliveros (1932 – 2016) and went on to study with Oliveros for several years. Lesley is now is researching the concept of physical listening as a partial requirement to receive her diploma in the science of osteopathy.